4R-Arena
Howdy Folks! Welcome to the 4R Arena! The New Season begins soon, be sure to check out our

FaceBook page for the new dates, times and event listings! We hope that you'll come and participate, either roping or watching! The 4R Arena has had a great year and we're going to continue that tradition of great events for all of you! Join us for all the fun, meet up with old friends and make some new ones! We're very excited about this new season and hope you'll come ride with us! The 4R Arena is located in Tuscaloosa County, Ralph, Alabama. Join us for this Season and for many years to come! We're looking forward to seeing all of you!
---
We offer RV Parking for University of Alabama Football Games.
Located 20 minutes from campus, hookups are available, weekend or long term parking.
Directions to Bryant Denny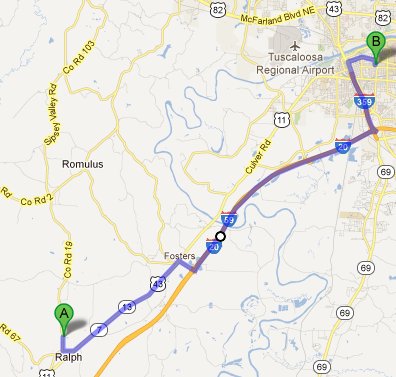 Head south on Sipsey Valley Rd toward Co Rd 67/Ralph Loop Rd (0.6 mi)
Turn left onto Co Rd 67/Ralph Loop Rd (0.5 mi)
Turn left onto AL-13 N/AL-7/US-11 N/US-43 N (5.5 mi)
Turn right onto Co Rd 10/Holley Springs Ln (0.8 mi)
Turn left to merge onto I-20 E/I-59 N toward Tuscaloosa (9.4 mi)
Take exit 71B to merge onto AL-69 N/US-11 S toward I-359 N/Tuscaloosa (0.5 mi)
Continue onto I-359 N (1.8 mi)
Continue onto AL-69 N/Lurleen B Wallace Blvd N (0.9 mi)
Turn right onto University Blvd (1.1 mi)
Turn right onto Wallace Wade Ave
Bryant-Denny Stadium
920 Paul W Bryant Dr
Tuscaloosa, AL 35401

---

FIELD TRIP
KIDS CAN GET A HANDS-ON EXPERIENCE THAT'S FUN AS WELL AS EDUCATIONAL
Rope Steer Head
Pet the Goats
Horse Shoe Toss
Pony & Horse Rides
Hayride through the pasture to see... COWS, TEXAS LONGHORNS, HORSES & DONKEYS
"WATCH BARREL RACING and POLE BENDING"
BRING A SACK LUNCH TO EAT ON THE GROUNDS OR UNDER OUR COVERED ARENA…..
Ask these schools about the great time they had……
Myrtlewood, Buhl, Cottondale and Holt

Call Robert Burns @ 205-799-4601 for more information
Covered Arena Available for Kids & Adult parties, Family Events, Horse Events
---

DIRECTIONS
From Tuscaloosa...
Follow I 59/20 to Fosters (Exit #62). Turn left
Or go Hwy 11/43 South to Fosters (5.5 miles).
Turn right at Ralph sign (0.5 mile).
Turn right on to Sipsey Valley Rd (0.5 mile).
4-R Arena on right

From Meridian...
Follow 59/20 N to Knoxville
Take Exit#52
Follow Hwy 11/43 N approx 3.5 miles
Turn left on Ralph Loop Rd
Turn left on Sipsey Valley Rd (0.5 mile).
4-R Arena on right On the south end of Sipsey Valley Rd
Just off of Hwy 11/43 S
Ralph, Alabama
---

4R ARENA
14945 Sipsey Valley Road South
Ralph, Alabama 35480
Robert Burns
phone 205-345-7427
cell: 205-799-4601